THz Lenses
 Lytid provides a wide range of high-quality PTFE (Polytetrafluoroethylene) lenses, a plastic which displays good compatibilities and excellent performances throughout the THz range (75 GHz up to 2 THz band).
This solid material has a density of about 2.2g/cm3 and can be use easily. The low absorption coefficient of PTFE optics in combination with low insertion loss (refractive index of ~1.43) within wide wavelength region of THz make it a great option for divers uses in THz domain.
These lenses are largely employed in applications such as astronomy, non-destructive testing, quality control, thickness measurement,…
Apart from standard size of lenses, we could also provide custom optic components with a high precision to satisfy specific needs for certain activities. The geometry could be Plano-convex, Plano-aspheric or Double-aspheric, with a diameter beteween 1″ to 6″. Don't hesitate to ask us for any custom request or question about our products.
Lytid provide also different lenses as HRFZ-SI with anti reflexion coating, Zeonex, TPX …, with a wide selection of geometry (Aspherical, Plano-convex, plano-convex with central hole, bi-convex, sphere, hypo-hemisphere, bullet-lens, negative meniscus, cylindrical hyper-hemisphere, cylindrical plano-convex …)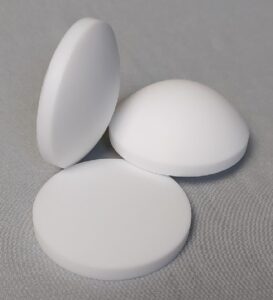 THz Windows
HRFZ-Si, TPX, Crystal Quartz, HDPE …
Plano-plano, plano-plano with oriented flat, plano-plano in holder, wedge, stepped …
THz Filters
Low pass filters, Band pass filters … 
THz Mirrors
Quartz mirrors, HRFZ-Si …
Plano-plano, plano-plano with holes, plano-concave with holes …
THz Beamsplitters
HRFZ-Si, KBr …
Plano-plano …
THz Spectral Splitters
HRFZ-Si, Crystal Quartz …
Plano-plano …
THz Waveplates
Crystal Quartz …
Achromatic polarization converter in rotator, achromatic polarization converter without holder, achromatic waverlate without holder, achromatic waverlate in rotator, plano-plano …
THz Attenuators
HRFZ-Si …
Variable wheel attenuator …